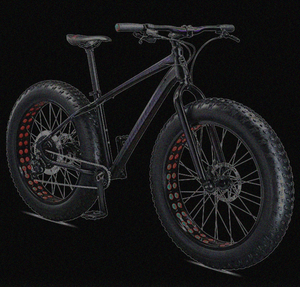 Buying Your First "Real" Fat Bike: The Mongoose Argus Sport, Your Gateway to a Real Deal Fat Bike
Fat Bike Tire Pressure 101 - Subscribe today!
Fat Biking Apparel & Accessories - Fat Bike Asinine Store
*FBA was not paid by any companies or anyone to write this article. The information expressed is our own opinion as experts in the field of fat biking and mountain biking.
So, you've decided to take the plunge into the exhilarating world of fat biking, but you're met with a common dilemma – the hefty price tags attached to "real" fat bikes. Fear not, for there is a shining beacon of hope amidst the sea of options: the Mongoose Argus Sport. This exceptional entry-level fat bike offers commendable components, a lighter weight, and won't break the bank, making it the perfect choice for those looking to dive into fat biking without emptying their wallets.
A Perfect Entry-Level Fat Bike: The Mongoose Argus Sport is a trailblazer in the realm of entry-level fat bikes, striking an impressive balance between performance, affordability, and quality. Priced under $1,200 US, this bike manages to pack in decent components while remaining accessible to those on a tighter budget. It's a refreshing departure from the heavy, lackluster options that can make fat biking feel like a chore rather than an adventure.
Redefining Expectations: Mongoose, a brand known for offering a wide range of bicycles, surprises us with the Argus Sport. While they do produce less desirable and cheaper fat bike models, the Argus Sport bucks the trend and delivers a higher level of quality. This bike boasts a thoughtful component build, demonstrating that you don't have to compromise on performance just because you're on a budget.
Technical Specifications:
Frame: The Mongoose Argus Sport features a sturdy and lightweight aluminum frame, ensuring durability without adding unnecessary weight.
Fork: Equipped with a suspension fork, this bike smooths out the bumps and enhances your riding experience.
Drivetrain: The Argus Sport boasts a reliable 1x10 or 1x11 drivetrain, offering a wide range of gears for conquering various terrains.
Brakes: Featuring hydraulic disc brakes, this bike offers precise stopping power and reliable control, ensuring safety in all conditions.
Wheels and Tires: The 26" wheels, coupled with 4" wide tires, provide excellent traction and flotation on soft and uneven surfaces.
Weight: While specific weight details may vary, the Argus Sport aims to be lighter than its more affordable counterparts, improving maneuverability and overall riding pleasure.
A Cost-Effective Alternative: Comparing the Mongoose Argus Sport to slightly higher-priced fat bikes like the Surly Ice Cream Truck, the Argus Sport holds its ground admirably. While the Ice Cream Truck may boast a more prestigious reputation, the Argus Sport doesn't shy away from delivering a comparable experience at a fraction of the cost. The Argus Sport's component selection and lighter weight make it an enticing choice for new riders looking to explore the wonders of fat biking without breaking the bank.
As a seasoned mountain biking and fat biking expert, I wholeheartedly recommend the Mongoose Argus Sport as your gateway to the real deal. This entry-level fat bike defies expectations, offering solid components and a lighter weight at an affordable price point. With the Argus Sport by your side, you'll be primed to conquer trails, glide across snowy landscapes, and experience the pure joy of fat biking.
So, seize the opportunity, embrace the adventure, and let the Mongoose Argus Sport usher you into the vibrant and exhilarating world of fat biking. Your journey awaits!
Thanks for reading. Please leave a comment and share with your friends. Look for regular blog uploads from Fat Bike Asinine. It is going to be fun. If there's anything you think would be good to discuss on this blog send an email to info@fatbikeasinine.com Until Next Time… Go Fat Biking!
---