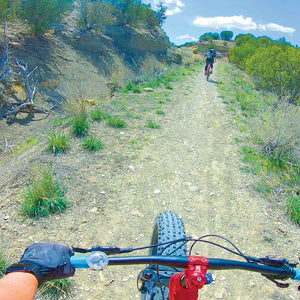 Fat Bike Asinine Spring Break 2021
Wow, we just got back from a week long fat biking and mountain biking vacation... and video shoot to Lake Pueblo State Park in Southern Colorado. The trails were dry and super fun to ride. The park is so vast that during the entire time we only saw a couple of other riders! Oh No! We managed to break a fatty on day one and everyone got some level of sun burn by the end of the week. We tried out new wheels, tires, silicone foam grips and other new gear. Our 2020 edition fat bikes were pushed to their max. What a fun trip! We even tested out some of our new apparel from the 2021 Summer collection coming soon.
Silicone Foam Grips featured in the videos can be purchased via partner link here.
To get precise tire pressure below 8 PSI, grab a low pressure tire gauge and fine tune your fat bike tire pressure via partner link here.
Check out part 1 of our adventure on the Fat Bike Asinine YouTube Channel. https://youtu.be/SknBwhnLCv0
Part 2 is out today. https://youtu.be/G8jTs4xus_c
Part 3 & 4 Coming soon. We're editing as fast as we can!
FBA Store updates. You're going to love the new fat biking apparel we designed for summer 2021. Over the past few months we've worked tirelessly to bring FBA riding jerseys back to the fat biking store! You've been emailing us regularly ever since we had to remove them! We heard ya loud and clear!!! We've finally found a new trusted supplier after the sudden loss of our original supplier (they had catastrophic equipment failure and could no long produce our jerseys. Dang). Sorry to those of you that had canceled orders. However everyone received free gear for the mix up! We're doing final product testing and should have the new products in the store and ready to ship by May 2021.
Thanks for reading. Look for regular blog uploads from Fat Bike Asinine. It is going to be fun. If there's anything you think would be good to discuss on this blog send an email to info@fatbikeasinine.com  Until Next Time… Go Fat Biking!
FBA Fat Biking Apparel and Accessories Store http://fatbikeasinine.com/
---