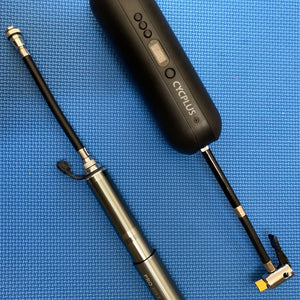 Fat Biking Tire Pressure 101: Out on the Trail | Portable Bike Pumps for Fat Bikes
Fat Bike Tire Pressure 101 - Video from the Fat Bike Asinine Youtube Channel. Subscribe today!
Fat Biking Accessories and Apparel - Fat Bike Asinine Store
With their huge tires fat bikes are ridiculously fun to ride. It's hard to not smile while riding one. Ride in the winter on snow, tackle sandy beaches and single track trails or just enjoy a casual ride on the pavement. Every riding condition requires a different tire pressure.
In the world of fat bikes tire pressure is king. Riding on loose sand or snow and you'll need to be much lower in pressure than other surfaces. Sometimes you need to ride on a packed or paved trail to get to the sand or snow riding area. Maybe you realize you want more or less tire pressure once you out on the trail. Sure you could strap a full size bike pump to a backpack. That would inflate those huge tires with ease. However, there are some better options for fat bikers that are lighter and won't wear you out when using them.
I tried a bunch of different portable bike pumps and can now recommend some great options. Both manual and electric model pumps were used to air up 26" x 4.8" tires. Tires with tubes as well as tubeless setup tires were used.
Between the two types of pumps the electric models were by far easier to use. They air up the huge tires without any physical effort making them perfect for fat bikes. Plus they have a digital readout that can be set to a particular PSI and then once reached the pump stops. Another neat feature that most portable electric pumps have is the ability to work as a power bank charger for your gadgets. Also, many models have a built-in light so you can use them at night. Awesome safety feature!
There are tons of options for portable electric pumps. Some are purposefully designed for cycling while others can be used for a variety of tasks like filling up a basketball or airing up a pool float. I tried out several pumps priced from about $40-$100 (USD) and found that most had the same features and functioned about the same.
At the lowest price, this model has all of the features of the more expensive models. The CYCPLUS electric pump can be set as low as 3 PSI and can inflate fat bike tires with Presta or Schrader valve. This pump is designed to fit into an included rack that mounts via the water bottle holder screws on your bike. I personally did not use the rack and opted to just put the pump into my riding backpack. The hose detaches and fits into a slot on the pump so it works great to pack.
There are literally hundreds of these pumps advertised so look for the following features when browsing products: Lightweight, Works with Presta and Schrader Valve, Works as Power Bank, Built-In Light.
If you can handle getting a workout for your arms then a lightweight manual pump might be your jam. The Pro Bike Tool hand pump is great for filling fat bike tires manually. I tested a couple manual bike pumps and found one to be superior to the others. I was easily able to inflate fat bike tires to 10 PSI with this pump. You can go much higher, I just used 10 PSI for testing all the pumps. Both tubed and tubeless setups from full flat. It's a slow process involving a lot of individual hand pumping actions. I had to take a few breaks, but the pump will eventual fill your tires. It will seem like nothing is happening at first from full flat.  
I recommend that you also purchase a small air pressure gage that is designed for low pressure. Here's the reliable one I use and recommend as it's small and packable. Meiser Presta It's designed to fit a Presta valve. With a gage like this you can really hone in your tire pressure for fat bikes. While the gage is attached, simply push the button to let air out to the exact amount you want.
For more fat biking tips and information check out the
Fat Bike Asinine Youtube Channel and subscribe today
.
Fat Biking Apparel and Accessories Store http://fatbikeasinine.com/
Thanks for reading. Please leave a comment and share with your friends. Look for regular blog uploads from Fat Bike Asinine. It is going to be fun. If there's anything you think would be good to discuss on this blog send an email to info@fatbikeasinine.com Until Next Time… Go Fat Biking!
---