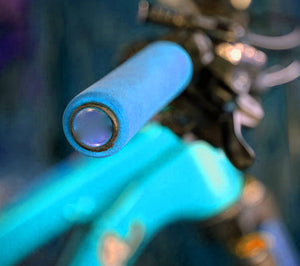 Foam Grips are the Amazing Product You Need for Fat Biking and Mountain Biking
We were just on a trip to Moab, Utah for several days back in late October 2020. We try and get out there once a year if possible and this year we made it happen. We did have to wear face masks for the van rides to and from the trailheads, but otherwise a normal trip. It should be on all mountain bikers' bucket list. The terrain will challenge even the most seasoned riders. There's also a ton of places filled with sand that a fat bike would eat up. We'll be back for that as soon as we can research the secret places to ride fat bikes. Our guide for both days said he knew of some sweet destinations.
It was on this trip when I first learned about these super soft, cushy foam grips. It's not a brand new product for fat bikes and mountain bikes by any means, but it was new to me at the time. We always enjoy getting a guide and renting some new model Santa Cruz mountain bikes for the adventure from RIM Tours (highly recommend them). This year the bikes had these cool foam grips that were really comfortable and made the days tough riding easier on my hands and wrists. In fact our guide took it upon himself to talk about how awesome foam grips are for riding. Sweet!
Well, as soon as we were back I did some online research and was able to find the same kind of grips that I had in Moab! Here's a link to the grips. My riding partner Buck bought me some for Christmas too! These grips are like heaven compared to the Santa Cruz grips I've been using for the past few years on all of my bikes. There's really only one negative thing to say about these grips. And it's pretty silly if you ask me. Once these grips are installed, it's difficult to remove them and transfer them on another bike like locking grips. Boohoo, they're inexpensive so just get a new set! Grips are one item that should be replaced regularly anyway as they wear out faster than other components. 
One big thing I've noticed from testing them recently is how much warmer my hands are while holding the handlebars this winter. Regular grips transfer some of the cold from the handlebars to my hands I realize now. On days where it's been a little warmer, the added cushion of the foam is really nice for helping to absorb some of the impact from not having a suspension fork on some of my fat bikes. In all, I'm sold on these grips! It even says right on the package that the pros use them, LOL!
Check out some foam grips today for your fat bike or mountain bike and you'll be happy you did. This is a good price and there are several colors to choose from. Chunky Foam Grips.
Here's a couple other brands that look to be similar too: Wolf Tooth Foam Grips and a discounted version Cheaper Foam Grips.
Thanks for reading. Look for regular blog uploads from Fat Bike Asinine. It is going to be fun. If there's anything you think would be good to discuss on this blog send an email to info@fatbikeasinine.com Until Next Time… Go Fat Biking!
FBA Fat Biking Apparel and Accessories Store http://fatbikeasinine.com/
---