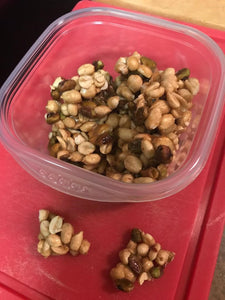 Homemade Energy Snacks for Your Next Adventure
I used to go to the grocery store and search for deals on energy bars. Sometimes, I'd even luck out and there would be some "Manager Markdown" bars hidden in the back of the store with the discounted day-old bread. At full price, (and even when they're on sale) they can really put a dent in your wallet. Nooooo, we need money for new bikes and accessories like apparel from Fat Bike Asinine. What can we do to save money?
Answer: make your own energy snacks at home on the cheap! I've tried countless recipes over the years for anything from granola bars to even trying my hand at making homemade energy goo and this recipe is my favorite. From my experience, I recommend never trying to make energy goo at home (Yuck!) and just buy those little packets at the store if that's what you're into. As for the rest of us, let's take look at this easy recipe for making your own energy snacks at home.
I jokingly call this recipe Kind Nuggets because result ends up being in small chucks rather that bars. But, I bet if you had a large size knife that was super sharp you may have better luck. No worries though because it tastes the same no matter what form it ends up in. You an even break apart into a trail mix if you like. It's homemade!
We're going to do an easy version here, but you can make a lot of different variations of this recipe by simply swapping out ingredients. You can use a mix of any dried fruit, nuts and seeds for this recipe so get creative. You can even experiment with other puffed grains and breakfast cereals like rice crispies. Get creative! (Pro Tip: Try sprinkling dried cayenne pepper on top for a spicy kick!)
Kind Nuggets Energy Snacks
Ingredients:
1 ½ Cup – Salted Dry Roasted Peanuts
½ Cup – Dried Cranberries
½ Cup – Puffed Rice (We use puffed Kamat in our video)
¼ Cup – 100% Pure Maple Syrup (Needs to be pure maple syrup or it won't work as well)
~ ½ tablespoon - Sea Salt (Salted or unsalted nuts, vary salt depending on ingredients used)
You Will Need:
Large Mixing Bowl
Large Spoon
Liquid and Dry Measuring Cups
8" x 8" Baking Pan or Glass Casserole Dish
Parchment Paper
Oven
Cooking Method:
Preheat oven to 325° F (~163° C) and line an 8" x 8" Baking Pan or glass casserole dish with parchment paper. (Note: Do not use wax paper! It will melt!)
Add dried fruit, nuts, seeds and cereal into a large mixing bowl.
Cover with maple syrup and stir until all the ingredients are evenly coated.
Pour mixture into parchment lined baking pan or glass casserole dish and lightly pack into an even layer.
Sprinkle salt evenly over the top to taste. (This is a sweet and salty version)
Bake for 20-25 minutes. Check after 20 minutes. The top should not start to brown.
Leave in baking pan and allow to cool in refrigerator until it has hardened and setup. (Approx. 1 hour)
Using a large sharp knife, attempt to cut into bars… but probably end up with nuggets. Ha, Ha!
Try not to eat it all at home. Consider making at least 2 batches!
Let me know in the comments what kinds of tasty combinations you come up with. To date, the best one I've come up with is a mix of peanuts, pistachios and dried blueberries plus the puffed rice. However, that batch didn't make it out of the house!
We did an easy to follow video for this recipe on our YouTube channel too. View it here: https://youtu.be/5smnVRqfeBg  If you're having trouble finding the puffed rice cereal in your area try a health food store or use the link here to get a bag online. https://www.amazon.com/gp/product/B00PO9IGJ4/ref=as_li_qf_asin_il_tl?ie=UTF8&tag=fatbikeasinin-20&creative=9325&linkCode=as2&creativeASIN=B00PO9IGJ4&linkId=cea4abf560aa20ee0fbcad3cb2fc13da
Thanks for reading. Look for regular blog uploads from Fat Bike Asinine. It is going to be fun. If there's anything you think would be good to discuss on this blog send an email to info@fatbikeasinine.com  Until Next Time… Go Fat Biking!
FBA Fat Biking Apparel and Accessories Store http://fatbikeasinine.com/
---
1 comment