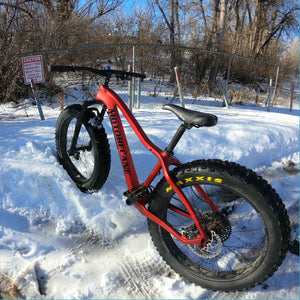 How to Keep Your Hands and Fingers Warm While Fat Biking This Winter
Do your hands get cold when you're out riding fat bikes in the snow? Mine do. Especially my fingers! I'm sure we've all picked up a pair of winter riding gloves that we thought would for sure keep us warm… only to be just as cold as with the last pair. Dang it!
Over the past couple winter seasons of fat biking, I have been slowly gathering up a decent mix of cold weather riding gear that actually will keep me warm. But not too warm! Overheating in the freezing cold is a real thing and really odd at first. It doesn't seem to make sense. Good jacket layering is key.
But our hands aren't covered by layers of jackets. We only have wind proof gloves with minimal insulation available for fat biking. Regular winter gloves are too bulky. Also, the fingers need to be free moving. No warm mittens to keep our fingers from freezing. So, what can we do to keep are hands and fingers warm?
Well, for hands it's always a good idea to have some heat packs in your pockets in case you get too cold. You can even pack them into your gloves on top of your hands. But wait. What about our poor little fingers? We need them to operate the shifter and break levers among other things. Of course, you can stop every little bit and warm your hands in your jacket pockets, but that's no fun.
Believe it or not there is a solution. You may have seen these weird looking, bag-like devices some folks have on their handlebars during the winter. What are they? handlebar mittens! The coolest winter bike riding product of all time! You'll definitely want to check out a pair for your fat bike if you want to be out riding in the freezing cold this winter. If you thought your fat bike was an attention grabber now… wait until you add bar mitts to your fatty!
When it comes to keeping your hands warm, there is really only one solution. Handlebar Mittens! Our FADYCAKE brand mittens are awesome! They are super easy to install and then take back off again. Your hands will stay warm with the addition of this product. You can then find any cold weather cycling gloves and probably be just fine. We sell a FADYCAKE winter riding glove. Just remember to choose gloves that allow you to use your break levers and shifters.
I hope everyone is staying warm this winter.
Thanks for reading. Look for regular blog posts from Fat Bike Asinine. It's going to be fun. If there's anything you think would be good to discuss on this blog send an email to info@fatbikeasinine.com Until Next Time… Go Fat Biking!
FBA Fat Biking Apparel and Accessories Store http://fatbikeasinine.com/
---
1 comment