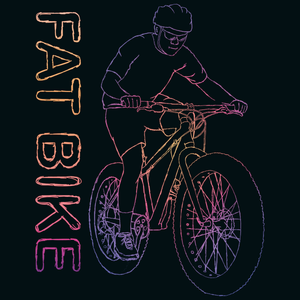 New Fat Biking Apparel!
Fat Biking Accessories and Apparel - Fat Bike Asinine Store
We are excited to announce all new apparel has been added to the Fat Bike Asinine store. We worked tirelessly setting up all the new products over the past few weeks.
For the past 2 years Fat Bike Asinine transitioned to making our own products at an in-house production facility here in Denver, Colorado. We purchased thousands of dollars worth of equipment and supplies to get setup and going. This was right for producing fat biking accessories, but almost immediately we became overwhelmed with the costs of warehousing enough blank inventory (sizes small - 3XL) in enough variety to grow.
For apparel right now we just can't afford to keep enough variety of options in-stock to offer our growing customer base the fat biking fun they desire. So we have re-partnered with a trusted printer who will produce high-end products on our behalf (We actually started FBA with them 3 years ago). This will give us the space to continue to develop new products and accessories for fat biking and continue to grow Fat Bike Asinine.
We are still going to be developing/producing fat biking products and accessories in our Denver, Colorado production facility and will ship those products out separately from our new apparel. Currently, we produce FADYCAKE Handlebar Mittens for cold weather cycling along with FADYCAKE cold weather riding gloves with zippered compartments for hand warmer packets. Fat Bike Asinine has new products currently in development and we can't wait to release them!
It's been a rewarding experience starting Fat Bike Asinine from nothing in 2019 and seeing where we are today. The website and store get an average of 80+ individuals interested in fat biking daily. Look for FBA products to be in your bike shops within the next few years. That's the goal. Produce quality fat biking products for both winter and summer riding. Thanks for your continued support of Fat Bike Asinine.
For more fat biking tips and information check out the
Fat Bike Asinine Youtube Channel and subscribe today
.
Fat Biking Apparel and Accessories Store http://fatbikeasinine.com/
Thanks for reading. Please leave a comment and share with your friends. Look for regular blog uploads from Fat Bike Asinine. It is going to be fun. If there's anything you think would be good to discuss on this blog send an email to info@fatbikeasinine.com Until Next Time… Go Fat Biking!
*Do you or someone you know have interest in writing blog postings about fat biking? We are looking for individuals who enjoy writing to submit material for this blog. Interested? Reach out to info@fatbikeasinine.com for more information.
---