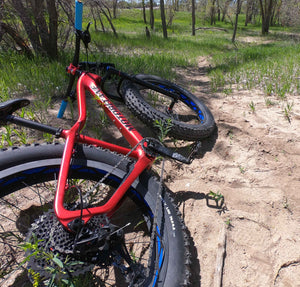 Riding into Summer - Fat Bike Tire Sets
*Fat Bike Asinine partners with Amazon and receives a small commission from product links in our blog posts. If you're going to buy something on Amazon (anything), please click one of our links prior to making your purchase and we will receive a small commission at no additional charge to you. Thanks for your support.
It's almost officially summer and time to throw on some tires for the warm weather. With so many options on the market these days it can be overwhelming. However, there are a couple standouts for all around summer fun on single track trails, sandy beaches and much more.
My favorite fat bike tires are models that are designed to be front or rear wheel specific. With a fat bike tire set you'll get a rear tire that digs in for traction along with a front tire designed to alleviate rolling resistance. Both tires will have a different tread pattern.
For the past couple of years I've come to trust Maxxis with their Minion FBF/FBR 26" x 4.8" tire set. They're just like the regular sized version for mountain biking, but just a lot fatter and wider space between tread lugs. Plus, both tires have the signature Minion side knobs for aggressive corning even on a fat bike. The tires also come tubeless ready with added EXO sidewall protection (Awesome). These tires can be used on anything (Sand, Snow, Rocky). You can't go wrong with this fat bike tire set. Maxxis Minion FBF can be bought here and the Maxxis Minion FBR tire here.
This season I'm trying out a tire set from Surly called Bud and Lou. The Bud is the front tire and the Lou is the back tire. These tires have an aggressive tread pattern and really dig into sandy and loose trails. These fat bike tires are designed to be mounted in either direction on their specific front or rear wheel. In one direction the tire tread is aligned for better corning. While mounting in the other direction, the tires dig in better for more propulsion. I have the back tire mounted for propulsion and the front tire mounted for corning currently and it seems to be the way to go. They're also excellent in the snow so we'll be testing them again in the fall to see how they do.
Here's a couple videos done recently with the Surly Bud and Lou fat bike tire set. More to come as I explore the capabilities this summer.
Thanks for stopping by. Look for regular blog uploads from Fat Bike Asinine. It is going to be fun. If there's anything you think would be good to discuss on this blog send an email to info@fatbikeasinine.com  Until Next Time… Go Fat Biking!
FBA Fat Biking Apparel and Accessories Store http://fatbikeasinine.com/
---