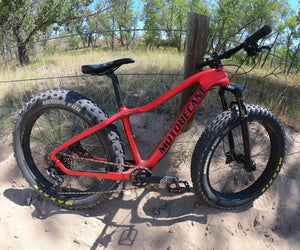 The Fat Bike Asinine Story
So away we go with FBA's first blog post. I thought it would be fun to look back in time to how we got here. I started Fat Bike Asinine soon after purchasing my first "real" fat bike. It was about 2015 when I first saw a fat bike locked up in front of our local pub in the small mountain town of Carbondale, Colorado. I could not stop staring at this neat looking bike sitting outside in the snow. I had never seen something so cool looking in my life. I knew right then and there that I needed to get one of these big bikes. At the time not to many people even knew what they were called, let alone where to find one for sale.
Skip ahead a little over year and I landed a graphic design job with the now bankrupt Sports Authority. All workweek I would build advertisements and see the awesome products for sale in the stores. One of the big perks of working in the Sports Authority corporate offices was the employee discount. The deal allowed us to go to the stores and get products for a 15% markup of what Sports Authority paid in bulk for the products. Then 50% off anything online too! It was around 2015-16 that I first saw the Mongoose Dolomite fat tire bike. This fat bike had 4" wide tires and a 7-speed drivetrain. Knowing nothing about fat bikes other than seeing one in the mountains, I grabbed one of these boat anchors for about $200 with tax as I remember with my employee discount. Yay, I had a fat bike finally!
After buying it and the initial joy wore off, it was noticeable how NOT enjoyable the bike was to ride after all. It certainly turned heads and brought smiles to anyone's face that saw it, but it was difficult to pedal around for too long (especially if you needed to go up a hill). I thought to myself about how cumbersome and clunky the bike was. All my friends and family thought the bike was cool, so I pretended to like it. Then, one day I did a little research online about fat bikes. That is when I learned that what I had was a stupid cruiser bike with fake fat tires and no cutouts on the wheels! Darn it, but the real fat bikes were thousands of dollars! Nooooooo, I thought!
Well skip ahead to about 2018 and that is when I discovered the online bike company Bikes Direct. Wow, this company had "real" fat bikes for prices I could wrap my head around. (I do ride a Santa Cruz bike, so I understand value compared to quality). For a little over $1,000 this company had fat bikes that had SRAM's (new at the time) Eagle 1x12 drivetrain and even had huge 4.8" Maxxis tires. Awesome!
So, after looking at the deals for months on end I finally felt that I had learned enough about fat bikes to make a purchase from Bikes Direct. Now which one to get. I would always start out looking at fat bikes in about the $1,200 price range. I would eventually end up looking at bikes with increasingly more expensive prices and components. You know, the old "just a little more and I could get this better bike" deal that we all do… well at least most of us that care about money that is. Anyhow, this went on for months until I finally had enough extra money on hand to make a purchase. Of course, by now though I wanted a nice carbon fat bike that would be very lightweight as I had already experienced riding a "boat anchor" like mentioned before. I also wanted to go tubeless for even less weight and these bikes came with what they were calling tubeless compatible wheels. Which is a fancy way of saying they are not tubeless ready but do have a way for the tire bead to lock onto the wheel.
Moving along to early 2019 and I made my first bike order from a completely online bike company. Fingers crossed that I had made the right decision. After all, I had done extensive research into what other carbon fat bikes were being sold for and this was a mega deal.
I ended up getting a $2,500 carbon fat bike that came with a SRAM Eagle GX drivetrain and Shimano XT hydraulic breaks. It was ordered on pre-order as Bikes Direct calls it. Really, they just order a bunch of different bikes from oversees and you wait for the shipping container. It was agonizing having to wait weeks for something I spent so much on, but it finally shipped 90% put together. I had it setup and was riding it within an hour or so from opening the box. Wow this bike was amazing. It was noticeably more agile than my 2015 Santa Cruz Superlight even. Everything felt great!
Right about this same time I had purchased a GoPro camera to document my mountain bike rides. I am a graphic designer by day so one day I began playing with a video editing app so I could share a ride with friends. That was fun, so I made another, and another. Then a friend suggested that I upload the videos to YouTube and maybe I could make some money. I got right to designing a logo.
Fat Bike Adventures or FBA for short, was what I was going to call this new YouTube channel. I finished the awesome logo and went to start my channel. Yikes, the name "Fat Bike Adventures" had already been taken! Now what? I had already spent so much time designing the logo. Dang it! So, I ended up using a thesaurus to look for words that meant "nuts about" something. Alas, I came across the word "Asinine" and the rest is history. In a nutshell, that is how Fat Bike Asinine came to be.
After a few months I learned that YouTube had recently made changes to their partnership program that would make it difficult if not impossible to ever receive monetization for all my hard work. The apparel and accessories line came about after a realization that I could make some money that way. The sport of fat biking was lacking fun clothing too. The big fat bike and component companies had some branded logo merchandise, but nothing cool to wear around when not on your bike that said you like fat bikes. I am a decent illustrator and have years of experience in the world of clothing design, so it was a no brainer for me to launch a store. I have since designed t-shirts, hoodies, jerseys, hats, winter jackets, neck gaiters and more. http://fatbikeasinine.com/
Thanks for reading the first blog post for Fat Bike Asinine. Look for regular posts in the future. It is going to be fun. If there is anything you think would be good to discuss on this blog send an email to info@fatbikeasinine.com Until Next Time… Go Fat Biking!
Shop the fat biking store www.fatbikeasinine.com
---