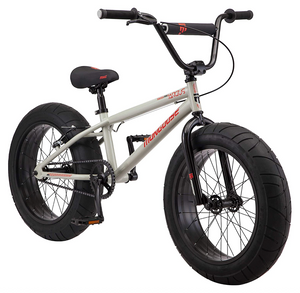 Unleash the Adventure: Mongoose Argus MX BMX Fat Bike for Kids
Fat Bike Tire Pressure 101 - Subscribe today!
Fat Biking Apparel & Accessories - Fat Bike Asinine Store
*FBA was not paid by any companies or anyone to write this article. The information expressed is our own opinion as experts in the field of fat biking and mountain biking.
Mongoose Argus MX BMX Fat Bike for Kids:
In my tireless quest for the perfect BMX fat bike, I scoured the internet, and lo and behold, I stumbled upon the Mongoose Argus MX. It appears to be the sole BMX fat bike currently in production and available for sale. With options in 16" and 20" sizes, this bike is poised to be the ultimate companion for young riders, enabling them to conquer any terrain with ease.
The Perfect Bike for Young Explorers:
The Mongoose Argus MX is a bike designed to unleash the spirit of adventure in kids. Its fat tire design, featuring impressive tire width and low-pressure capabilities, ensures exceptional stability and traction across diverse terrains. Be it sandy beaches, muddy trails, or snowy hills, this bike fearlessly takes on the challenge, allowing young riders to explore their surroundings like never before. The Mongoose Argus MX is not only built for off-road expeditions but also excels as a versatile urban cruiser, opening up a world of possibilities for young riders.
Technical Specifications:
Frame: Crafted from durable and lightweight steel, the frame is built to withstand the demands of adventurous kids.
Fork: The rigid fork enhances control and stability, ensuring a smooth ride over rough terrain.
Wheels: Available in 16" and 20" sizes, the Mongoose Argus MX features 4" wide knobby tires for exceptional traction and a comfortable ride.
Drivetrain: The single-speed gearing simplifies operation and allows young riders to focus on the joy of cycling.
Brakes: Equipped with reliable coaster brakes for quick and safe stops whenever necessary.
Handlebars: The BMX-style handlebars provide a comfortable grip and precise control for young riders.
Saddle: A padded seat enhances comfort during longer rides, ensuring an enjoyable experience.
Pedals: Resilient platform pedals offer a secure foothold and efficient power transfer.
Embracing Nostalgia and Fun:
As a self-proclaimed mountain biking and fat biking expert who started riding BMX bikes as a kid, I couldn't resist the temptation to take the Mongoose Argus MX for a spin around town. Despite its intended audience of young riders, this bike seamlessly accommodated even adult riders, allowing us to relive our glory days of BMX adventures. Its sturdy build and adaptable design made it an enjoyable ride for riders of all ages and sizes, proving its versatility and durability.
General Thoughts:
The Mongoose Argus MX is a true game-changer in the realm of BMX fat bikes for kids. With its unique fat tire design, this bike empowers young riders to tackle any terrain with confidence and excitement. Its durable construction ensures long-lasting performance, capable of withstanding the inevitable bumps and crashes that accompany youthful exploration. While it may be the only contender in the BMX fat bike category, it certainly does not compromise on quality or experience.
Expanding Possibilities for Older Riders:
While the Mongoose Argus MX caters primarily to younger riders, it's worth noting that there are fat bikes with gears and lever-controlled brakes available for older, more advanced young riders. Mongoose offers several fat bike models specifically designed for younger riders, enabling them to venture onto trails alongside mom and dad. These bikes provide an excellent stepping stone to the world of mountain biking, instilling confidence and fostering a lifelong love for outdoor adventures. Fat Bike for Older Kids
As a mountain biking enthusiast, a fat biking fanatic, and an all-around bike riding nut, I wholeheartedly recommend the Mongoose Argus MX. Its ability to ignite a passion for exploration, coupled with its exceptional performance and unwavering reliability, make it the perfect companion for young riders seeking new horizons. So, gear up, strap on your helmet, and let the Mongoose Argus MX take your kids on an exhilarating journey they'll cherish for years to come!
Thanks for reading. Please leave a comment and share with your friends. Look for regular blog uploads from Fat Bike Asinine. It is going to be fun. If there's anything you think would be good to discuss on this blog send an email to info@fatbikeasinine.com Until Next Time… Go Fat Biking!
---