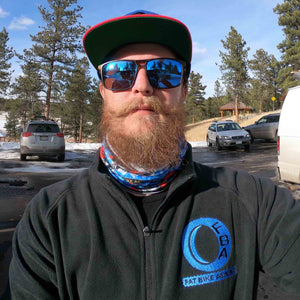 Keep Warm and Dry This Winter While Riding Your Bike
When it comes to riding bikes in the winter, there are several key factors to success. Obviously, the number one is staying upright while riding your bike on slick surfaces. That's huge! (LOL) You also need to be warm, but not so warm that you overheat and sweat too much.
For your torso, the Fat Bike Asinine store sells the 3 apparel pieces you'll want for your next bike ride in the cold. Fat Biking Winter Apparel You'll want a thin base layer to wick moisture away from your body, a micro fleece jacket over that and then a weatherproof outer shell jacket. This setup is not bulky and won't hinder your riding abilities. And, it will keep you warm and dry. whether you're checking out some groomed trails, testing your might on the pavement our just commuting to work, this is the setup you'll want.
As for pants, well I've tried out a lot of different brands and styles for fat biking and mountain biking. Most quality pants have some key features in common to look for. You want to have pockets that have zippers first of all. And, zippers for the pant leg cuffs so you can secure them around your boots easily. You need your winter riding pants to be windproof. And, weatherproof if you're going to be out in the snow or riding along in auto traffic with wet roads. Finally, good cold weather, winter cycle pants have some reflective material for visibility at night. I have 2 years now with these amazing riding pants and wear them whenever the temperature drops. Winter Cycling Pants (on Amazon).
When it comes to keeping your hands warm, there is really only one solution. Handlebar Mittens! Our FADYCAKE brand mittens are awesome! They are super easy to install and then take back off again. Your hands will stay warm with the addition of this product. You can then find any cold weather cycling gloves and probably be just fine. We sell a FADYCAKE winter riding glove. Just remember to choose gloves that allow you to use your break levers and shifters.
For headgear it's more of what I discussed above. You want to be warm (mainly your ears), but you want heat to be able to escape from your head or you'll overheat while riding. Fat Bike Asinine has found the perfect beanies that are warm enough, but that are also lightweight. These beanies fit under your helmet and are thin enough to let some heat escape from the top of your head while riding. Winter Cycling Beanies
As far as footwear is concerned, well that's a whole topic on it's own. It depends on how you're most comfortable riding. You can ride with flat pedals or clipped in. I personally don't ride clipped in when riding on snowy trails because the snow has a tendency to pack into the pedals making it hard to use them. Also, when you slip on a bike it's very sudden and you can't unclip fast enough inmost cases. Try flat pedals in the snow next time. With that said, you want to choose a winter boot that matches with the type of pedals you ride with. I'll go over more about cold weather footwear in another post.
So after freezing so many times when in between riding, I really think that the addition of what I call a "puffy coat" that can be packed into your backpack is a key apparel item that is overlooked by many new to winter bike riding. Myself included! No matter how you layer yourself, you're going to sweat while you ride. The apparel we choose to ride with ultimately will become soggy from all the moisture no matter what we choose. So because of that fact when we stop top rest, we get cold fast. Actually it's almost immediate. Try out a packable puffy coat for your next adventure. Warm Puffy Coat (from Amazon) Also great for keeping warm while preparing to ride and tailgating after!
Thanks for reading. Look for regular blog uploads from Fat Bike Asinine. It is going to be fun. If there's anything you think would be good to discuss on this blog send an email to info@fatbikeasinine.com Until Next Time… Go Fat Biking!
FBA Fat Biking Apparel and Accessories Store http://fatbikeasinine.com/
---