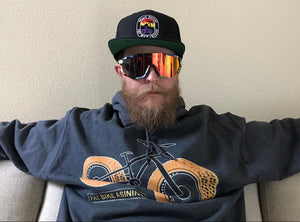 What's the Deal with the Giant Goggle Style Sunglasses for Mountain Biking?
Today I wanted to chat about sunglasses. I recently jumped on the bandwagon of the larger style that seems to have become popular with many mountain bike riders around the world. Here's a link to the sunglasses we sell in the store. The glasses come with a nice hard shell case for travel and 3 interchangeable lenses. 
I'm still wearing normal sunglasses when driving my car and doing not bike riding things so far. They look a bit weird to me to wear casually so I'm using them for riding mainly. I do feel like an 80's flashback somewhat, but that's just my age probably… and I have a fear of looking completely ridiculous on purpose. A lot of the fashion from the 1980's era of extreme sports can stay back in the 80's in my opinion. But again, I lived through that period in history so my feelings differ from the youths of today. I do however still want to be hip though dang it!
I've been riding with these sunglasses now for a week now and I actually really like the way they feel on my face. It's really nice to look to your left/right and see things without having to turn your head as much. I like how the lens wraps around my head and dips down lower than traditional sunglasses. It makes me feel confident that most stray rocks and bugs will stay out of my eyes. So that's huge right there for any type of bike riding. There's also good air flow so they never get foggy. I haven't had the opportunity to ride in the snow yet or when it's really cold out, but I suspect they will stay fog free in those conditions as well. The extra air flow will be great, for wearing a face mask/neck gaiter while riding too.
Even though these sunglasses look huge (they are), they fit just like regular sunglasses for sports. They stay put on the bridge of my nose no matter what I'm doing. Dipping my head forward does nothing to make them slide out of place. I don't have to adjust them with my hands while riding either. Zero shifting. I have no doubt that a more expensive pair would feel better, but these do great so far. I don't wear prescription glasses myself, but these sunglasses do come with a mount behind the lens so you can use prescription lens. It's a cheap little pair of glasses without lenses that you'd then have lenses put in by your eye doctor I guess.
So, to sum things up and keep this post short, I'm really digging this style of sunglasses for bike rides. If you've seen these funky glasses around and have been wondering about them, now you know. They are very cool for fat bike and mountain bike riding. At first, they 100% made me feel kind of silly looking at myself in a mirror, but that has quickly passed. After about a week, I feel like one of the cool kids when wearing them.
Thanks for reading. Look for regular blog uploads from Fat Bike Asinine. It is going to be fun. If there is anything you think would be good to discuss on this blog send an email to info@fatbikeasinine.com Until Next Time… Go Fat Biking!
FBA Fat Biking Apparel and Accessories store http://fatbikeasinine.com/
---